Check out the whole series here—> on Amazon.
~~~~~~~~~~~~~~~~~~~~~~~~~~~~~~

Primal Law by J.D. Tyler
My rating: 5 of 5 stars
This is special ops shifters at its finest. The author was able to take standard shifters but transform that into something completely different than what you've read before. We learn that every decision can have consequences.
Jax was a total protector from the start of the book, all the way to the end of the book. He's that kind of hero that you continue to swoon from the start to finish never wavering in your feelings.
Kira was pretty awesome for lack of better words. She gets thrown into this world, into the forest fortress and takes everything in stride's. She doesn't really break down in the end she adapts and becomes a part of the group that is irreplaceable.
The plot is amazing you have this group of shifters that all have their own special powers and make up this group that the world needs, that the humans need to survive I really enjoyed the way the author makes it unique and different.
There's so much in depth stuff that I can go into but it would ruin you seeing the things with your own eyes,
With all the secondary characters we really look forward to seeing all of their stories watching them fall in love. The funny banter between the Alpha pack was one of the biggest highlights of this book, they are very much like brothers and best friend so you can guarantee that it's out of this world funny.
Overall if you like paranormal and are looking for something a little different this book is definitely for you. Your heart will ache at the end of this book, but the bright side, more books are out! The characters are great the steam is high and the overall plot is unique and different this is a series not to be missed. 5 stars #2OCCJD
~~~~~~~~~~~~~~~~~~~~~~~~~~~~~~

Black Magic by J.D. Tyler
My rating: 5 of 5 stars
This is a prequel to book 3 Black Moon. You don't necessarily have to read it but I found myself really enjoying to get to see the start of Mac and Kalen's Adventure.
There's not really much to say about it, but it's got steam, an adventure and you get to look at how these two characters started on their quest to be together. I really enjoyed it and it added to the series. 5 stars #2OCCJD
~~~~~~~~~~~~~~~~~~~~~~~~~~~~~~

Savage Awakening by J.D. Tyler
My rating: 5 of 5 stars
What happened when you keep things quite when you shouldn't have? Well Aric is about to find out. If you loved book one then hurry up and get Arics books. You won't be sorry you did. We get to join the alpha pack when they rescue one of their own and find out more secrets then they every thought possible. This was a crazy ride!
My heart ached for Aric. He was stuck in a hard place when it came to his pack/Brothers. I was mad at him so many time, but in the end he proved him self and I was so glad that he got the acceptance he deserved.
Rowan was this tough cookie cop that was just as tough as any of the men. I loved her. She had snark comments to make and had me laughing thru the book.
The continuation of the main story continues to unfold and the mystery of it, start taking more shape. We get a love story between the two main characters we get a look at the secondary characters and we also get an overall story/plot, all that together makes this one amazing series. I really need to know what happens! I'm chomping at the bit! I really want to ramble but I don't want to give spoilers!
Overall this was another great look into the alpha pack. I was so happy to see Jax and Kira and the rest of them in this book. I can wait to see who is next! I'm not sure how but each book is getting better and better then the last! I have a feeling I am going to devour them all! 5 Stars # 2OCCJD
~~~~~~~~~~~~~~~~~~~~~~~~~~~~~~

Black Moon by J.D. Tyler
My rating: 5 of 5 stars
Wow, this story just keeps getting better and better. In the third book we get a look at Kalen and Maks love and the story unfolds more and more. They each get more serious then the last and that helps make this series so amazing. We know that we will get an a happy ending for the love interests, and that the story continues to get more complex.
Kalen, his fears were played on they gave him a weakness. Also, his insecurities were exposed in the worst ways. I wanted to jump into my kindle and just love on him. I can't give too much away, but he is the new comer, the loner, and he doesn't quite have his spot in the pack, and the bad guy plays on that. It made me so mad and my heart ache. I was so glad that he got his happy ending.
Mak has been around the pack for a long time. She knew what she was in, but meeting Kalen changed everything. She was this sweet woman, and while she was tough as nails, she didn't like getting her hands dirty. Her life takes a turn in this story and wow I was blown away.
These two have such an intense story, they had to fight so hard to get to their happy ending and it was so worth it in the end. Some new things come to light in. This one and I was shocked!!!!!
Overall I loved this one the most that I've read so far. Maybe it was the face that it had more angst, more feeling, I'm not sure, but it gave me all the feels. 5stars #2OCCJD
~~~~~~~~~~~~~~~~~~~~~~~~~~~~~~

Hunter's Heart by J.D. Tyler
My rating: 5 of 5 stars
Wow, this book proves that everything that happens, happens for a reason. I loved seeing Ryon do this thing and his powers were great to see. But it will break your heart more then once.
Oh sweet Ryon. I can't say anything bad about him. I have loved him through the first three books and getting his book was an amazing treat. His dedication not only to his pack but to his newly acquired mate is so far one of the best I've seen.
Daria was spunky. She had knowen all about powers or such because she has one. It's fun watching her navigate with the Alpha pack and except everything that is going on. I really liked her character.
This was different then the first books and we get a look into a new paranormal threat, but it continues to follow the same sub main plot. I like how this author made a new threat, yet it's all sickly connected. and I can't wait to see what is going to happen moving forward! I have a feeling things are going to get more Intreating.
This author has been able to make each story new and fresh and grow as an author in my opinion her writing is getting better and better. The dialogue between the characters is always fresh and witty. I really really enjoyed seeing all the other characters from previous books and I can't wait for certain characters to get their books. 5 stars #2OCCJD
~~~~~~~~~~~~~~~~~~~~~~~~~~~~~~

Cole's Redemption by J.D. Tyler
My rating: 5 of 5 stars
Not everything is what it seems. That's what we find out in this book, the 5th book in the amazing alpha pack series. We meet new characters, they face new challenge and old challenges are looked upon. What's the truth and will they every figure it out.
I loved Selene. She was tough, but underneath she was looking for validation. She didn't know she was looking for the truth until it was right infromt of her. My heart aches for what she went thru. She had every right to feel what she did, but I was so glad when she accepted the truth, even if it was at a cost.
Oh sweet Zander. He killed me in this book. He is the perfect male. Always taking care of others, looking out for his family, no matter the cost. I was so mad at him at times. He put his life at risk so many time and while I know he did it for the good of the pack, I was still mad.
Oh man! So many unexpected things happened in this book! We meet Selene who is Commander nicks daughter. She didn't have an easy past but Zan helps make it easier. We have a new threat of vampires, and other things happen, but I don't want to ruin it.
Overall, I love this book as much as the others in the series. I have a feeling the next one will take us for an even wilder ride! 4.5 stars. #2OCCJD
~~~~~~~~~~~~~~~~~~~~~~~~~~~~~~

Wolf's Fall by J.D. Tyler
My rating: 5 of 5 stars
This is commander nicks book and wow, my heart ached thru out the whole book for him. He went thru something in the last book, that has left him unable to claim his mate and we feel his struggle.
I love Nick. Everything he does is for the good of everyone else so to see him go through this internal struggle was really really hard.
Calla, she was in Nicks corner 100%. I'm glad she never gave up on him no matter how hard it was. Opposites really do attract when it comes to these two characters. vampire and Wolf become an unstoppable team. And they are perfect for each other.
The overall plot to me was about acceptance and moving forward, but there so much more too it, but out of all the books, this one you need to experience to get the full effect. We meet new enemies, and watch them get defeated in a action packed fight.
I was so glad to see Nick get a happy ending. Both characters deserved it after losing their first loves and it wasn't an easy road but they finally got there. 4.5 stars #2OCCJD
~~~~~~~~~~~~~~~~~~~~~~~~~~~~~~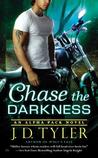 Chase the Darkness by J.D. Tyler
My rating: 5 of 5 stars
This is one book beside ravens that I've been looking forward to from the start of the series and finding Micha. His struggle to overcome everything was amazing and I was so glad that he finally got the love he deserved. This book will make you feel a range of emotions and take you for a wild ride.
Oh Micha, it wasn't enough that he had to go through everything that he went through when he was held captive (yes I'm being vague) but then to continue having to fight and struggle afterwords was horrible for him through this book we watch him overcome those struggles and come out on the light side. He was broken and just needed his mate to help put him back together.
Jacee, was…… I wasn't sure how I would take her being the mate to somebody because of how she was and one of the other books and how she had been with Jax. Despite all that I felt she was a good match for Micha, and helped him really come out of the darkness. She was not a much loved shifter, but by the end she was part of the pack.
We know early on what the characters will be up against, and I felt that helped with the flow of this story. It was action packed, just like how the rest of this series is, and that's a huge draw in for me. The enemies are defeated and these characters get there happy ending which was a pain to get there but they did it with style.
Overall it was a good read, not my favorite, but it wasn't horrible. I am excited to see what's to come. I truly want Ravens book, like ASAP, because he deserves to be happy. The alpha pack is amazing and I love them so much as a collective whole. 4stars #2OCCJD
~~~~~~~~~~~~~~~~~~~~~~~~~~~~~~

Phoenix Reborn by J.D. Tyler
My rating: 5 of 5 stars
I don't want to go to much into a Detail with this story because it starts to play out and the last two books and we get to see a it played out to the full extent in this novella.
Fate always does what is right, and while Phoenix doesn't quite understand that and it takes some time to except the things that beat does he finally does and it was beautiful.
Oh sweet Noah, he has gone through so much in the box with having Phoenix not want to claim him that I was so so happy when it finally happened Noah deserved it tenfold.
I was excited to get this because they really deserved they're happy ending together I wish it had been longer but I understand why it was short, their relationship it started out in other books. Now I need Ravens book and I will be one happy camper! 5 stars. #2OCCJD