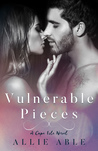 Vulnerable Pieces by Allie Able
My rating: 5 of 5 stars
Vulnerable Pieces is a very fitting title since it made me feel very vulnerable as I read it. Without giving anything away, this may be that deepest book I have read by Allie Able as it deals with some very emotional issues. My heart broke and of course it was made whole again by the end of it but I wasn't sure if I would recover from the heartache. It takes a certain talent to make a reader feel so deeply and so wholeheartedly in just a short time.
This is the fourth book in the Cape Isle series and though they can all be read as standalones; all the characters play a part in every story. This story focuses on Jenna, the quiet baker that until now we haven't learned too much about and it sees for a good reason. Parker is Brandon's brother who like Jenna we have yet to learn about. This makes it almost like a new series, like I am discovering this quiet little town all over again. We get to see true strength and perseverance with these two. I watched a beautiful relationship form and face devastation and with that I saw great character and strength. It was a humbling sight to see.
This has everything a reader could ask for. I'm not going to lie though, have a box of tissues ready, you will need them. Allie able has an ability to portray human emotion realistically without it feeling cliché. I felt everything; joy, wonder, pain, fear, great sadness and hope. I know that when I see her name on a book that I am going to feel a rollercoaster of emotions and I look forward to the next ride.